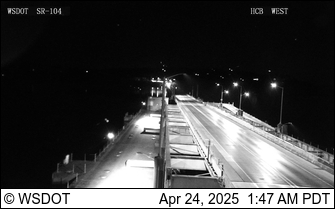 The Hood Canal Bridge is a famous structure in the Pacific Northwest. It stretches for nearly a mile and a half and features a draw span in the middle that is opened periodically to allow watercraft to pass through it. This is a main travel feature to the region and handles much of the traffic going to or from the Olympic Peninsula.
If you've traveled across the Hood Canal Bridge you know it's an extremely memorable experience. Want to know more about it? Here are five fun facts about the Hood Canal Bridge.
What's In A Name?
Known to almost everyone as the Hood Canal Bridge, it does in fact have another name. The official name for the bridge is the William A. Bugge Bridge. Bugge was the director of the Department of Highways for 14 years, from 1949 to 1963.
The Longest Of Its Kind
The Hood Canal Bridge is the longest floating bridge over a saltwater tidal basin in the entire world.
The Timeline
The Hood Canal Bridge saw construction begin in 1958 and it was opened in 1961. 1979 saw a violent wind storm sink much of the western section of the bridge. That was rebuilt and reopened in 1982. Then from 2003 to 2009, an extensive project was undertaken to replace the eastern half of the bridge.
Open Sesame!
Washington State law requires the Department of Transportation to open the Hood Canal Bridge within one hour's notice of a boat or ship requiring to pass that way.
The Toll Has Got To Go
When the Hood Canal Bridge had reopened in 1982, it had done so as a toll bridge. The tool booths were removed in 1985 after a court determined that the insurance funds used to partially rebuild the bridge constituted repayment of the original bonds used to fund the construction of the bridge.
CHECK OUT MORE ABOUT THE HOOD CANAL BRIDGE:
WSDOT – Hood Canal Bridge