Located just outside of Walla Walla, the Whitman Mission National Historic Site is another of the many awesome historical sites worth visiting in the Pacific Northwest.
Marcus and Narcissa Whitman were missionaries that came into the Walla Walla area in 1836. It was set up right along the Oregon Trail and was an important stop for pioneers heading out to the Northwest.
The Whitmans were massacred a little over a decade later by the local Cayuse tribe following a particularly devastating measles outbreak that decimated the tribe. This event played a large role in the United States Congress designating the area as the Oregon Territory, and also in the beginnings of what would become known as the Cayuse War.
This is a favorite stop of mine these days when I'm in the Walla Walla area. That's beautiful country there, by the way, and the winding highways and country roads treat you to excellent views of the rolling hillsides.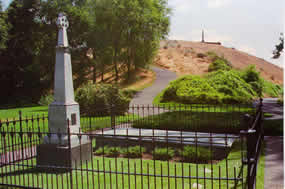 The Whitman Mission National Historic Site has a great visitor center that details all that happened that day. It also has some very interesting findings from some of the archaeological excavations that have taken place there over the years. You can also take a self guided walking tour around the grounds and see the foundations of the buildings that stood there during the time. You can even see some remnants of the famous Oregon Trail itself.
I really appreciate the chance to walk in the footsteps of these brave people who settled this area that we all love so much. There is enough land there left in its natural state too to give you a good idea of what it looked back in the time of these pioneers.